ECOPERLA ROSA
REVERSE OSMOSIS
Are you looking for an alternative for water ionizers? You want to take care of your organism and make use of benefits of alkaline water? Until now there were no cheaper substitutes of ionizers that would work in the same way and provide even better water parameters. Standard reverse osmosis systems have only the ability of mineralizing water.
Ecoperla Rosa is a modern reverse osmosis system that has never before been present on the Polish market. Instead of standard mineralizing cartridge it has a cartridge that revitalizes water enriching it in magnesium and raising its pH. Apart from crystal clear water, user gets the best for their organism alkaline water.

GET TO KNOW ECOPERLA ROSA
Reverse osmosis Ecoperla Rosa was fully manufactured in Europe form the best quality components in cooperation with well-known producers of water filtration equipment. It is extremely economical in terms of operation. To produce 1 liter of perfectly pure water 2-2,5 liters of waste water is discharged. It is almost a half in comparison to standard reverse osmosis available on the Polish market.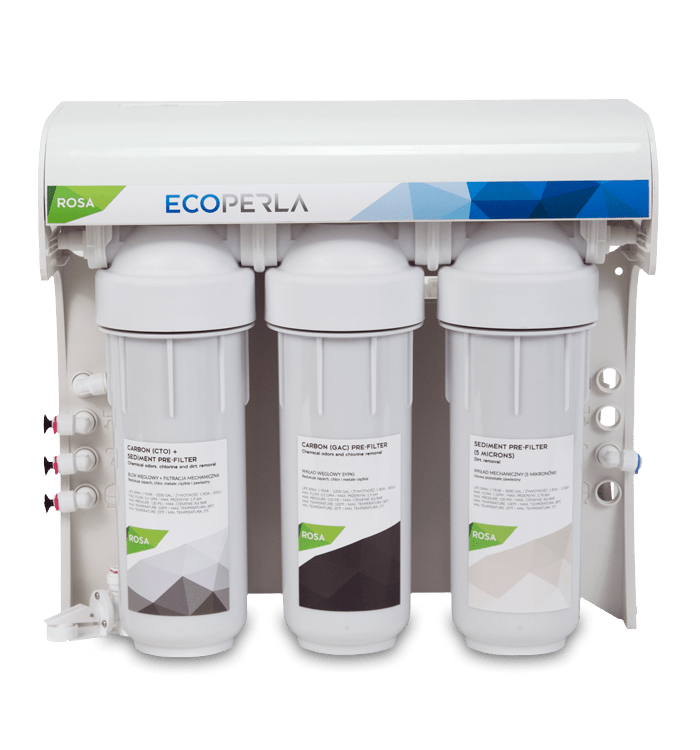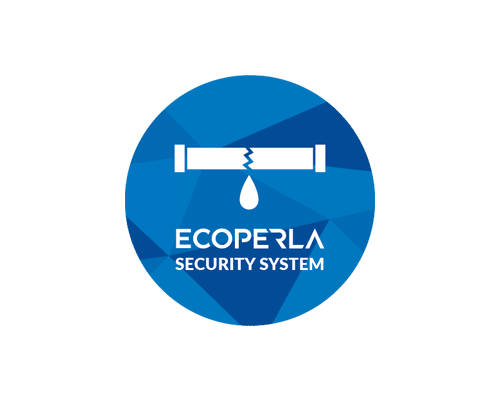 Has revitalizing cartridge Ecoperla Elixir instead of standard mineralizing cartridge
Enriches water in magnesium and raises water pH- produces expensive alkaline water
Improves taste and aroma of tea, coffee and meals by removing water hardness
The set includes good-looking and valuable two-way faucet
Use of best Filmtec osmotic membrane
Ensures low drainage to sewerage that generates additional savings
Has compact frame and hinged housings for easier cartridge replacement
Uses Ecoperla Security System to protect against flooding
Ecoperla Security System protects kitchen and kitchen furniture from the likelihood of flooding. It doesn't need the power. When the system detects the leakage its most important element expands and immediately closes the water supply to the device.

Aesthetic filter body – all cartridges and membrane were placed in a compact housing. The filter body has holders that orders all hoses and fittings
Filter housings- were made of quality plastic and are hinged for even easier maintenance
Easy installation – on the filter body there are symbols that greatly facilitate the proper connection of the hoses
Tank – Ecoperla Rosa was equipped in external 16 liter tank made of durable plastic and stainless steel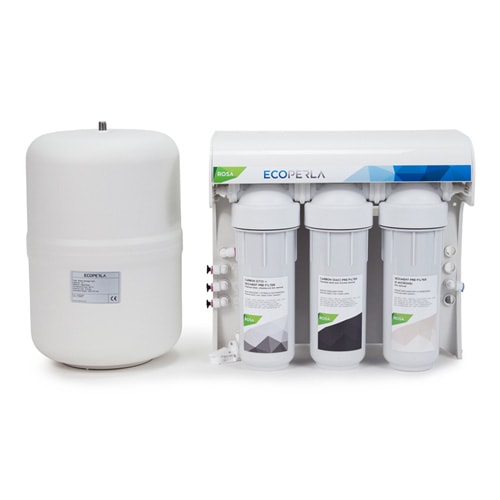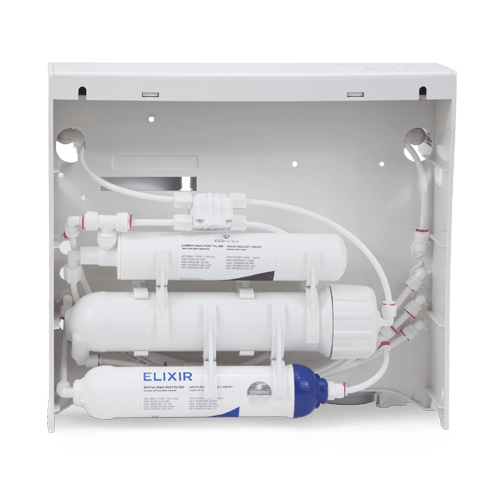 The osmotic membrane 100GPD is responsible of the main filtration process. It was manufactured by the pioneer in membrane production for nanofiltration and reverse osmosis systems – Filmtec company.
Ecoperla Rosa has the best quality cartridges characterized by high performance and durability. The description of each filtration step:
Mechanical cartridge – removes solids
Powdered coal cartridge – absorbs chlorine and heavy metals
Pressed carbon cartridge – removes carbon monoxide, cleans water
Osmotic membrane- reduces water hardness, bacteria and viruses
Post filter carbon cartridge – improves the taste and odor of water
Revitalizing Ecoperla Elixir cartridge – adds magnesium, raises water pH