ECOPERLA SEDIMENTOWER
MECHANICAL WATER PURIFIERS
Large particles of mechanical impurities are a common problem present both in water from the well and waterworks, Standard mechanical pipe filters are not always dealing well with proper filtration. Moreover, the frequent cartridge change might be an issue.
Ecoperla Sedimentower is much more efficient alternative to standard pipe filters. Large contact surface of water with filter bed ensures the filtration on the highest level. Filter bed used in the system is characterized by an extremely long service life.

GET TO KNOW ECOPERLA SEDIMENTOWER
Ecoperla Sedimentower is a system consisting of epoxy bottle resistant to corrosion and manual control valve. It is available in three sizes. The filter bed is well-chosen mixture designed to remove from water large mechanical particles. It is characterized by long service life and extreme efficiency. Due to the manual control valve the user can themselves decide about the frequency and time of regeneration. This feature also has an impact on lowering the operating costs of the system.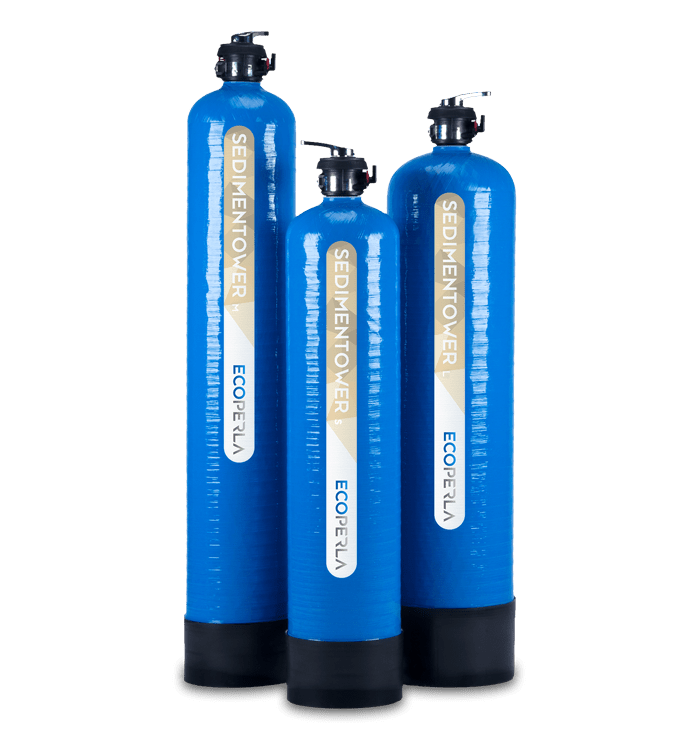 Sand

100%

100%

Precipitated iron

100%

100%

Rust particles

100%

100%

Turbidity and other pollutants

100%

100%
Made of durable and solid materials
Low operating cost of this kind of water purifier
Manual control valve is easy in operating
Efficient filter bed with long service life
It does not require cartridges or frequent regeneration
Easy cleaning of the filter bed after turning the control valve
Regeneration only with water, reverse flow
Removes even very high levels of pollution and turbidity

ECOPERLA SEDIMENTOWER CONTROL VALVE
Ecoperla Sedimentower is equipped in manual control valve that controls flow. This allows to specify the frequency of filter bed rinsing which is strictly connected with the amount of suspension in the water.
Manual control valve is a perfect solution for boiler rooms and basements (where the water purifier is located) where the temperature is lower than 2°C. Low temperature does not have any bad influence on the mechanical parts in the control valve.
The lack of automation positively influence the total cost of the system. Due to this fact Ecoperla Sedimentower can compete in price with pipe water filters which require regular cartridge change.
Universal fittings and description of work modes on the top part of the control valve make the process of installation and operating much easier.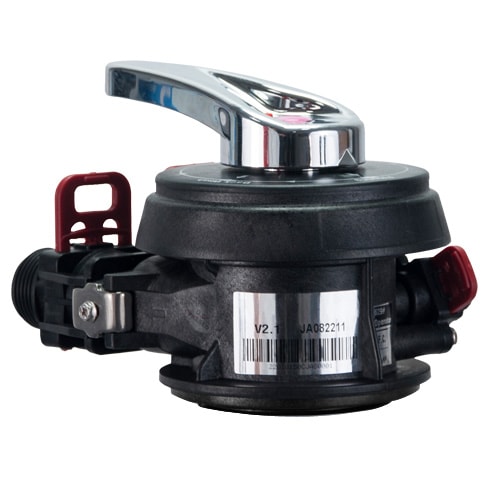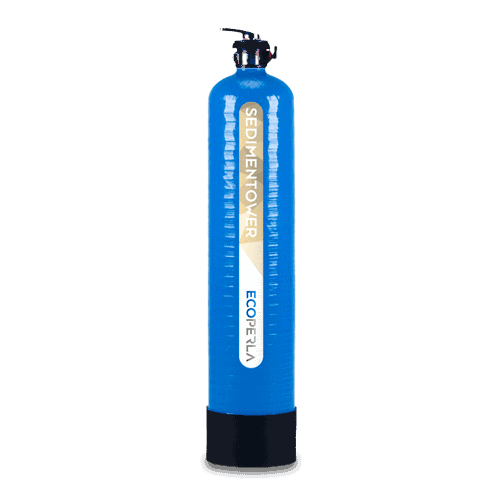 ECOPERLA SEDIMENTOWER RESIN
The filter bed is well-chosen filtration mixture that will easily remove from water all precipitated substances. Filter bed weight does not affect the pressure drop in installation.
Large filtration surface will ensure the proper contact of water with filter bed. In the process of filtration the following particles are removed: mud, iron particles, rust, sand. Also the turbidity is reduced.
Ecoperla sedimentower is available in three variations:
Size S – 25 liters of resin
Size M – 35 liters of resin
Size L – 40 liters of resin
The variants described have different capacities and dimensions. Product selection depends on the amount of pollutants and the desired performance.