ECOPERLA IRONITOWER
WATER PURIFIER FOR REMOVING IRON
High concentration of iron in water is on of the most common problems when your main water source is a well. This substance has an influence not only on water color, taste and smell of water, but also causes many damages in households.
Ecoperla Ironitower is the best solution for getting rid of the problem with iron in water. Well-selected filter bed is a guaranty of effective and thorough filtration. Ecoperla ironitower is the end of your problems with inadequate water parameters.

GET TO KNOW ECOPERLA IRONITOWER
Ecoperla Ironitower series are four models of iron removers of various sizes and capacities. Each device has solid, durable and resistant to corrosion bottle filled with the finest filter bed, as well as reliable Clack control valve. Ecoperla ironitower is equipped with innovative Ecoperla Security System which allows for savings during operation.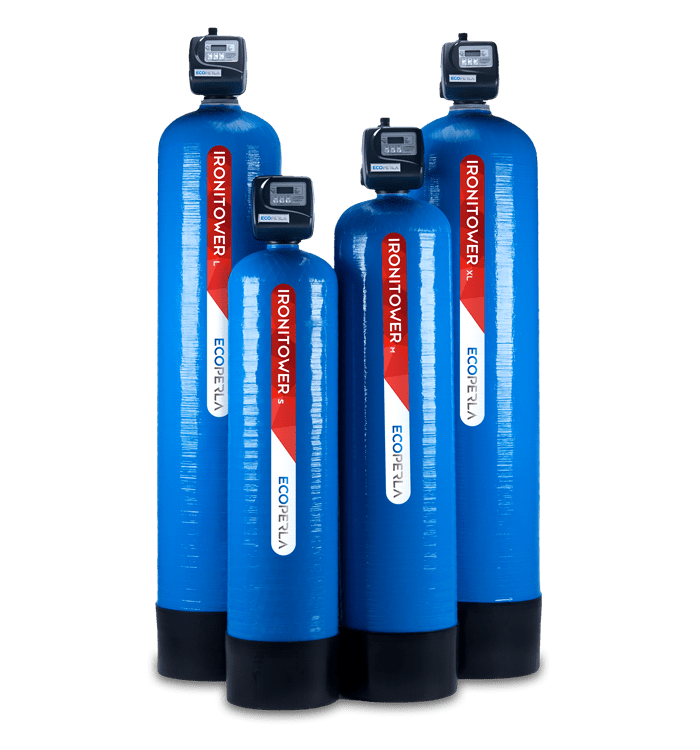 Reliable American control valve
Manufactured in Europe from the finest components
High water pH level is not needed for the proper operating
There is no need for any chemicals
Specially selected filter bed for removing iron
Device's size selected for the desired capacity
Uses professional Ecoperla Smart System
Ecoperla Smart System is specially designed system of control valve settings that allows to maintain the optimal operating conditions of the filter with the maximum reduction of operating costs.

ECOPERLA IRONITOWER CONTROL VALVE
Ecoperla Ironitower has a reliable American control valve manufactured by a well-known producer Clack.
Automatic regeneration frequency calculation
Has 10 programs to choose from
Is equipped modern processor on integrated circuits
Has ability to display the remaining time to next regeneration
Keeps software data and work parameters in microprocessor's memory
Has simple hydraulic connection
Full access to spare parts and accessories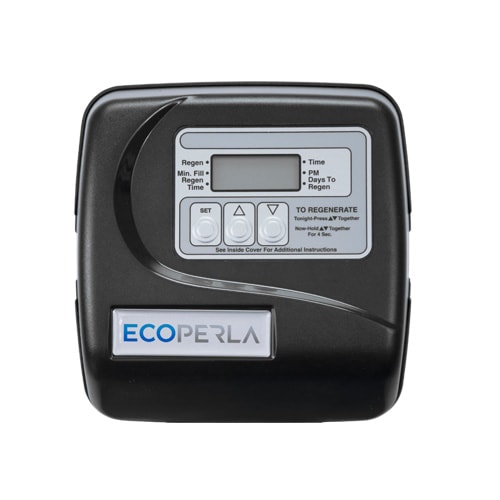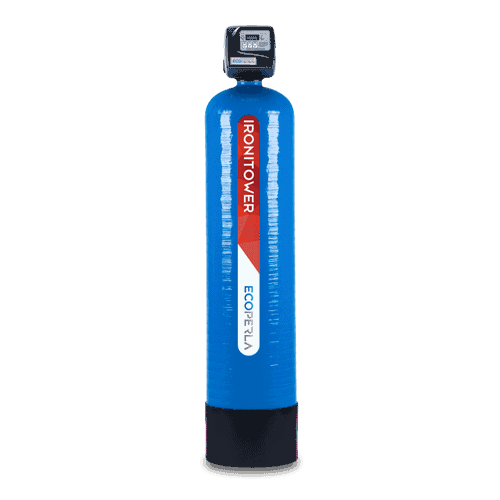 ECOPERLA IRONITOWER RESIN
Filter bed used in Ecperla Ironitower is a well-selected mix that accelerates the precipitation of iron and mechanical impurities from water.
The right selection of the bed amounts will ensure the optimal contact time of water with filter mix. The filter bed is regenerated by co-current flow. No chemical substances are required for regeneration. It is enough to rinse back the bed with aerated water.
Ecoperla Ironitower is available in 4 variations:
Size S – 60 liters of filter bed
Size M – 75 liters of filter bed
Size L – 90 liters of filter bed
Size XL – 120 liters of filter bed
Presented variations are characterized by different capacities and dimensions. Product selection depends on water parameters and desired system's performance.