ECOPERLA SLIMLINE CS
SERIES OF COMPACT WATER SOFTENERS
You are fed up with inconvenient difficult to be removed sludge on taps and household appliances? Your washing machine and dishwasher often break? The reason of that is high water hardness. Hard water causes also problems with heating and hydraulic installations. How to fight it effectively?
Perfect solution to the problems connected to high water hardness is the modern series of compact water softeners Ecoperla Slimline CS. The application of Ecoperla Perfect System and the best, failure-free control valve results in optimal of water filtration at low exploitation costs.

GET TO KNOW ECOPERLA SLIMLINE CS
Ecoperla Slimline CS are compact water softeners dedicated to households. Water softeners are available in 5 different variations: 11,14,17,24, 30 liters of resin. Ecoperla Slimline CS is a series that was manufactured in a close cooperation with Erie Water Treatment – the world pioneer in water filtration. The systems have a long period of warranty.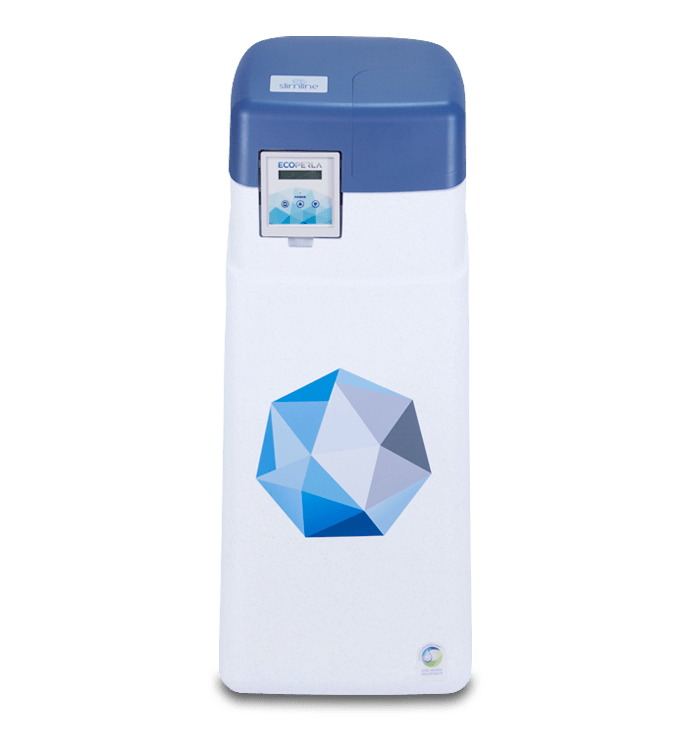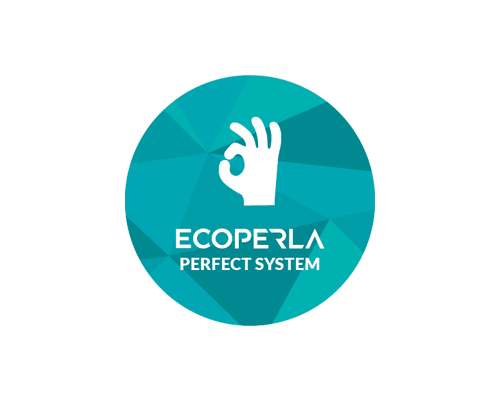 The control valve is manufactured by Erie ( each piece is thoroughly checked and tested)
Monosphere filter bed by Lewatit – the best on the market ion exchange resin for softening water
Overflow, float and electrovalve protects the system against failures and water leakage
The system of dry brine tank prevents the formation of salt bridges
The salt alarm informs the user about the necessity of adding salt to the tank
It uses Ecoperla Perfect System
Ecoperla Perfect System is designed due to long-standing experience of water filtration experts. The appliance of the system results in Ecoperla Slimline CS to be extremely economical in operation. Moreover the user gets water of the best parameters and the system itself is protected against failures.

ECOPERLA SLIMLINE CS STRUCTURE
The display in Ecoperla Slimline CS has a function of illumination due to which the data is visible even in dark spaces. The screen has been installed on a movable panel. After its deviation the viewing angle is much better.
The programming of Ecoperla Slimline CS softeners is very easy and intuitive. Menu is available in Polish/English language and the panel is user friendly.
The brine tank was designed to be in front of the softener. It has easily removable cover.
The right fit of the housing dimensions makes it easy to fit even in small spaces. Material of the cabinet will make filtration of hot water possible.
Each Ecoperla Slimline CS water softener is equipped in hose draining the rinsing to the sewage.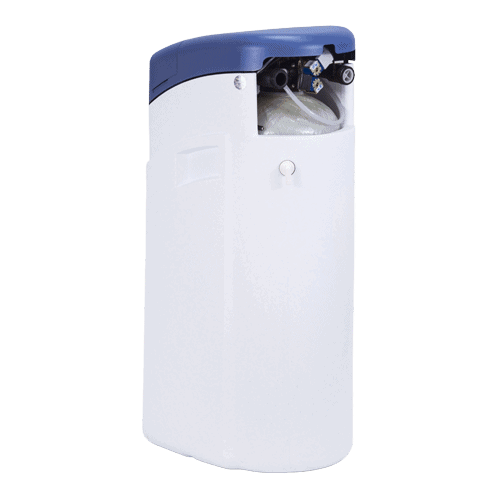 ECOPERLA SLIMLINE CS EXPLOITATION
Ecoperla Slimline CS is one of the most economical water softeners available on the market. The softener costumes small amounts of salt for the regeneration process. What affects it?
Application of Ecoperla Perfect System
Application of countercurrent flow – it is a more effective method of regeneration. The brine solution during regeneration is fed from the less exploited to the more depleted layers
Deletion of the cycle in the regeneration process – manufacturers have decided to omit the backwash cycle. Numerous studies have shown that it is not necessary for proper regeneration
Adjusting the bottle size to a resin volume provides the greater flow and less frequent regeneration
Proportional siphoning – the system supplies only as much of brine as is needed for the complete regeneration, if the ion exchange capacity between the regenerations has not beed exhausted