ECOPERLA SLIMLINE POU
ULTRAFILTRATION SYSTEM
You don't like the taste and smell of tap water but you are tired of buying bottled water? You want to improve the quality of tap water on your own without removing naturally occurring minerals? Or maybe you don't have enough space for mounting a large kitchen filter?
For each of these questions – the Ecoperla Slimline POU is a good answer. It is a system with ultrafiltration insert, which will reduce microorganisms, improve the taste and smell of water. The device takes up very little space and is extremely easy to install. All minerals remain in filtered water.

GET TO KNOW ECOPERLA SLIMLINE POU
Ecoperla Slimline POU (Point-of-use) is an excellent proposition for small kitchens where residents expect clean and tasty water for direct consumption or preparation of hot dishes and beverage. Minerals remain in filtered water. Substances that diminish the taste and smell of water, heavy metals, microorganisms, mechanical impurities are removed. Ecoperla Slimline POU is a three-stage filter. It is an extremely economical solution which takes up a minimum of space. Ecoperla Slimline POU is characterized by high efficiency. The filter is produced in cooperation with Erie Water Treatment.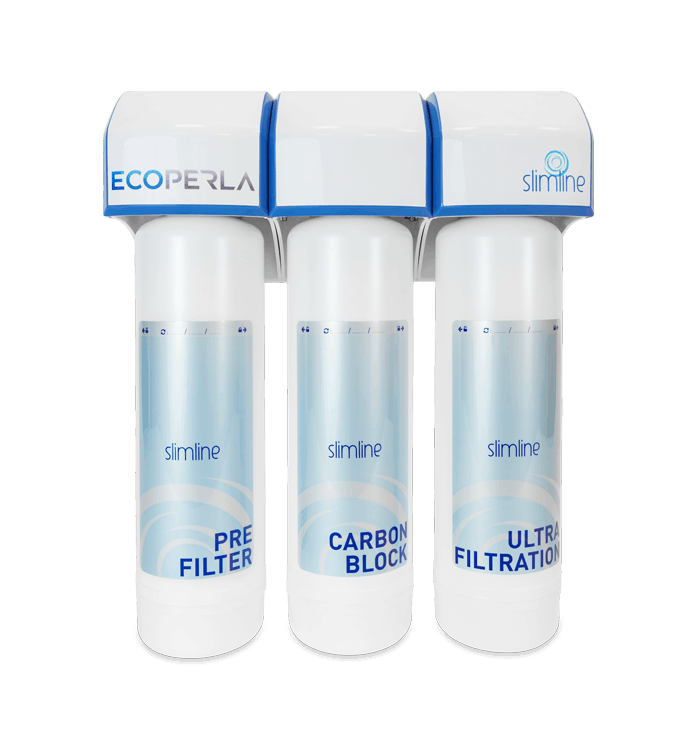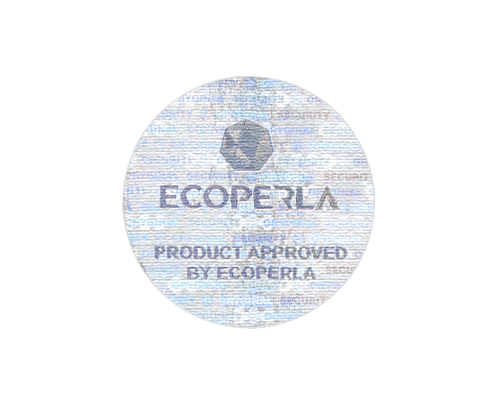 Cartridges with a large filtration surface, which ensures very thorough cleaning
Includes all necessary assembly parts
Fast water intake form the faucet
Very easy installation – you can easily do it yourself
Produced in Europe in cooperation with Erie
Faucet

in a modern design

Without water rejection

ECOPERLA SLIMLINE POU STRUCTURE

Frame – the kit includes a mounting frame made of durable plastic.
Filter cartridges – cartridges used in the Ecoperla Slimline POU have a large filter surface. An additional advantage is the enormous tightness. External pollution practically have no chance to get inside.
Faucet – design of faucet created in accordance with modern trends. During the water intake, full hygiene is maintained thanks to the plastic insert hidden inside, preventing contact of filtered water with metal parts.
No tank – Ecoperla Slimline POU does not need a tank for water storage. The water is treated during the flow.
Easy replacement of cartridges – cartridges have a rotating lock for quick service. Replacing the cartridges without having to drain the system is possible thanks to the automatic shut off valves.
Quick connectors – these elements guarantee a quick system installation. They also minimize the probability of leakage.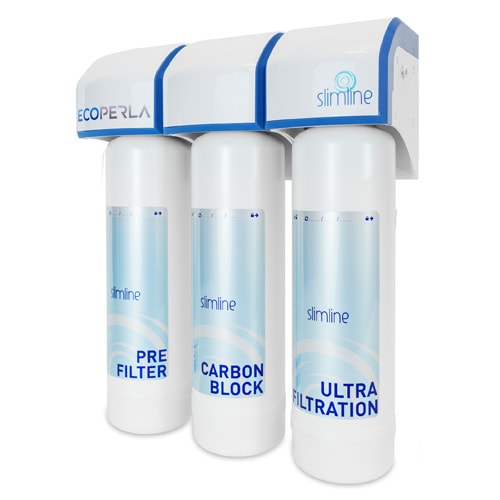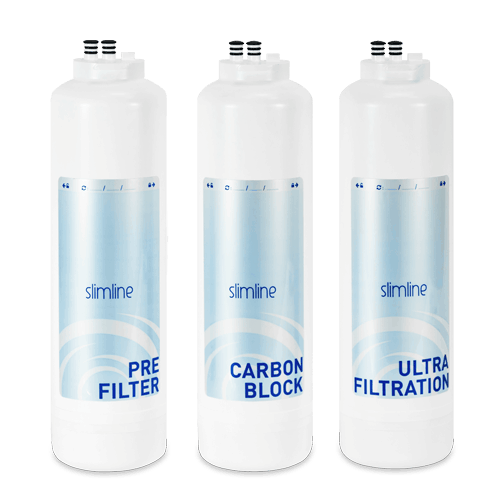 ECOPERLA SLIMLINE POU COMPONENTS
There are three stages of filtration process:
Pre-filter – purify water from mechanical particles. It protects subsequent cartridges against the penetration of this type of impurities. The filtration accuracy is up to 5 microns
Active carbon – inside the cartridge there is pressed carbon with an accuracy of 10 microns. At this stage, mechanical impurities and chemical contaminants are removed from the water. The taste, smell and color of the water are improved
Ultrafiltration membrane – the contaminants are removed to an accuracy of 0.1 micron. It removes heavy metals, cysts, bacteria and viruses.